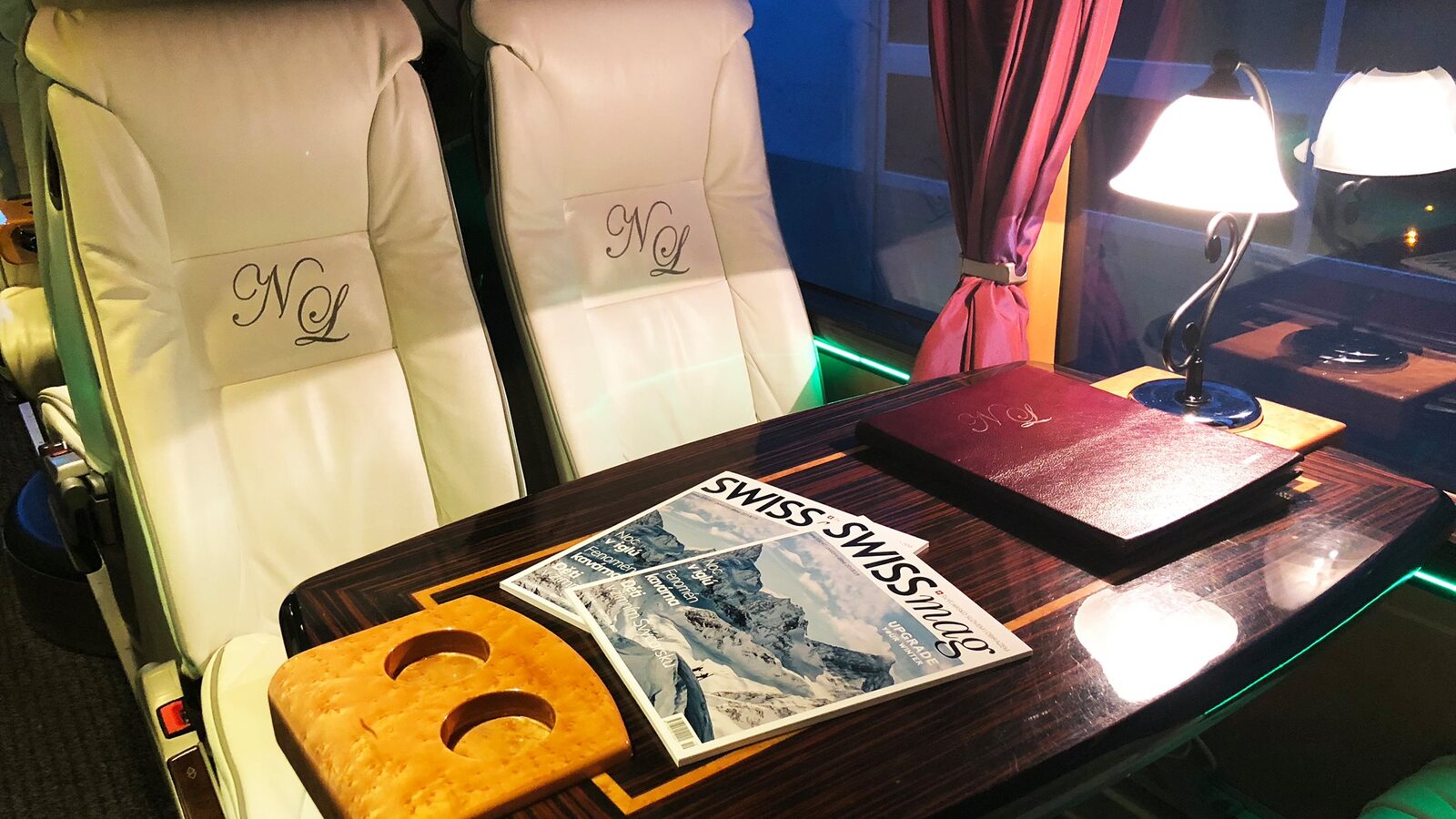 On-board services
Travelling to Switzerland by coach with the company Nobless Line is not just an essential journey from one place to another, but first and foremost a pleasant experience provided by luxury fittings, a pleasant and willing crew and many accompanying services. All this will make your coach journey between the Czech Republic and the Swiss Confederation a positive experience you will be happy to share with your family and friends. We would now like to give you an introduction to these services.

---
We offer passengers free hot drinks on board our coaches, including premium freshly ground Italian Lavazza 100% Arabica coffee in the form of Ristretto, Espresso, Cappuccino, Latte Macchiato and Flat White. All these drinks are prepared in coffeemakers from the Swiss company Jura. We also offer hot chocolate and a wide range of Teekanne teas.
---
Reserving tickets for your journey between the Czech Republic and Switzerland is extremely easy. You can make your reservation with the company Nobless Line in a number of ways.
On-line reservation system
Non-stop telephone reservations on +420 602 333 369
By e-mail to rezervace@noblessline.cz
By sending a private message using our profiles on the social networks Facebook, Twitter and Instagram
---
The comfort of our passengers is one of our greatest priorities, for which reason we invest great effort and finances in fitting out our coaches. Special leather seats with extended seat cushions and armrests offer truly comfortable seating. The large amount of leg space and the option of reclining the back of your seat without noticeably inconveniencing other passengers will be a pleasant surprise. All seats on our coaches are, what's more, fitted with two-point or even three-point safety belts, which passengers are obliged to use throughout their journey.
---
All Nobless Line coaches offer passengers a stable Wi-Fi internet connection in the Czech Republic, Germany, Austria and Switzerland, meaning that passengers can spend their journey time on the internet and social networks or working. If you do not have your own device, we will be delighted to loan you a modern Samsung tablet, which you can use to connect to the on-board system and spend your time enjoying multimedia entertainment.
---
Our restaurant is located on the lower deck of our luxury coaches and offers 14 seating spaces with high-gloss wooden tables and table lamps. The restaurant is available to all passengers during the course of their journey. On night connections it is, however, open only until 11.59 p.m., at which time it closes to ensure peace and quiet during the night. You can order from a range of light Czech dishes and a wide range of drinks of many kinds on board our coaches.
---
All Nobless Line coaches provide a modern toilet, always clean and fresh, with a large mirror, hot running water and a contactless hand dryer of the highest quality, for your use at any time during your journey. These fittings will give you the feeling that you are in the toilet of the most luxurious hotel rather than on an international coach line between the Czech Republic and the Swiss Confederation.
---
During their journey our passengers can borrow a pleasant warm blanket that emphasises the difference between travelling on a regular coach and travelling on a Nobless Line coach even more. What's more, passengers can also borrow a modern tablet to browse the internet, do some work or enjoy multimedia entertainment on board the coach. Passengers also receive free single-use headphones for individual listening.